COSMOS Yacht Charters - Crewed or Bareboat Sailing Charters and Cruises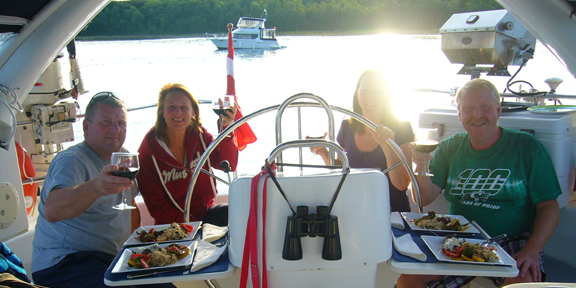 Please click HERE to go to our Mobile Friendly Website
COSMOS Yacht Charters provides a variety of adventure sailing charters, tours and cruises aboard modern luxury yachts with affordable and flexible pricing plans in Lake Huron - the Heart of Georgian Bay and North Channel. Our adventures include Sunset Dinner Cruises, Romantic Weekend Getaways, Day Excursions, ECO Tours, Cruise and Learn, Corporate Events, Sightseeing Tours, and Week-Long or longer cruises. When it comes to fresh water sailing, here you'll find the best sailing in the world. Enjoy sailing Georgian Bay, sailing the North Channel or sailing 30,000 Islands UNESCO World Biosphere Reserve.
Our sailing charters are a perfect family vacation and/or an ideal gift for celebrating: Anniversaries, Birthdays, Bachelorette Parties, Bachelor Parties, Stag Parties, Weddings, Family Reunions, Graduations, Business/Personal Milestones, Retirement, Congratulations, a Thank-you or any special occasion where you want to provide an exceptional and a most memorable experience.
WHY CHOOSE US?

Our clients, true lovers of nature and the outdoors, consistently rate our service a 9 or better out of 10 – meaning we exceed their expectations. Our personalized sailing cruises satisfy their inner needs to be intimate with nature, experience wildlife in their natural habitat, and enjoy the great outdoors in serene settings within two spectacular Canadian National Parks, while still enjoying the creature comforts of home.
Our clients have a love and intrigue with sailing. They consistently seek and experience the calming effect from being on the water and frequently comment on their spiritual awakening – the 'soothing of one's soul' as described by many. They always express their appreciation for our respect for the environment, the value of worry-free and safe cruising given our notable safety record, and our devoted attention to their peaceful and relaxing enjoyment.
GEORGIAN BAY / NORTH CHANNEL YACHT RENTALS ONTARIO
Our Midland, Ontario sailboat rental business is all about our deepest passion for showing guests an extraordinary sailing experience in the largest fresh water archipelago in the world – the 30,000 Islands! Joining us means making your own family vacation discovery aboard a luxury yacht at your own pace in this unpolluted pristine natural environment and distinctive landscape and scenery that inspired the world renowned 'Group of Seven' painters. Moreover, The Heart of Georgian Bay has many national and international designations attesting to its uniqueness and special place on Earth.
Midland, Ontario is situated on Southern Georgian Bay and is a neighboring town to Penetanguishene and the historic Discovery Harbour, which played a strategic role in the War of 1812. The Southern Georgian Bay region played host to a vast array of events, activities and projects from 2013 to 2014 to commemorate the 200th anniversary of the War of 1812, focusing on the region's rich military and marine heritage.
As indicated above, we have a variety of yacht charters and tours in Georgian Bay and in the North Channel, which are part of Lake Huron. With our unique client centered approach, we offer such a variety so our guests are able to choose an Ontario boat charter cruise that will be perfect for them! Whether you want to enjoy our very popular Sunset Dinner Cruise, our Romantic Weekend Getaway, a Day Excursion, a Teaching Charter, or an ECO Tour – we can provide! Essentially we offer a constellation of possibilities for your enjoyment! For more information about our relaxing sailing cruises, see our ITINERARY section.
In addition, you have the flexibility to bring your own provisioning, or just relax and let us take care of all that for you. If you choose to have us take care of provisioning, we survey you for your food and beverage preferences using our COSMOS Journey Planner. Our 'Cook Option' will provide a detailed menu plan of gourmet meals that you can approve in advance of your 'All Inclusive' COSMOS Lake Huron, Georgian Bay luxury sailing cruise.
At COSMOS Yacht Charters, we pride ourselves on flexibility and personalized sailing cruises - the hallmark of our success! We welcome your input for your itinerary and your menu plan so we can exceed your expectations!
We have strategically located our Spring, Summer, and Fall season operation since 2006 out of Midland, Ontario, at the Bay Port Yachting Centre so that we are only a 90 minute drive to our marina from Toronto. You can take Georgian Bay Ontario sailing charters closer to home than you think!
During the Winter months, we operate out of the Bahamas, British Virgin Islands & the US Virgin Islands in the Caribbean.