Travelling through the Erie Canal this Spring had its share of problems to say the least!  As mentioned in a previous blog, we had purchased a commercial permit to enter the canal on May 1st ahead of the scheduled May 19th opening for the general public.  Unfortunately our May 1st pre-season entry was postponed to May 8th, and was then subsequently postponed to the 11th.  On May 10th, our pre-season canal entry was again postponed to May 16th, maybe the 17th.   Then, suddenly in the morning of May 11th we were invited to enter the canal with a 72′ trawler heading to Lake Superior.  We were surprised that we could enter the canal on the 11th when we had already been informed it was again postponed to May 16/17.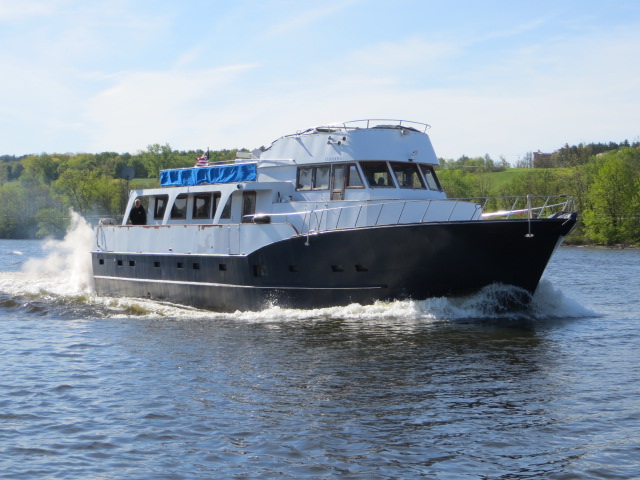 Motor Vessel 'Endurance' that entered the Canal with us on May 11th
So in the canal we went, only to find out we got stopped 7 locks later (at lock 8) and told we could not proceed further.  In fact we were told to turn back down the Mohawk River for 6 miles and dock at the Schenectady Yacht Club at our expense.  We were stopped there for 3 days before we were permitted to proceed again.   The folks at the Schenectady Yacht Club really looked after us.  Ed and Kathy were fantastic hosts during our stay with them.  They accommodated us with anything we needed.  They drove us anywhere we wanted to go for shopping.  We highly recommend if you are traversing the Erie Canal, be sure to stop at the Schenectady Yacht Club as you will receive second to none welcoming, service and hospitality from Ed and Kathy!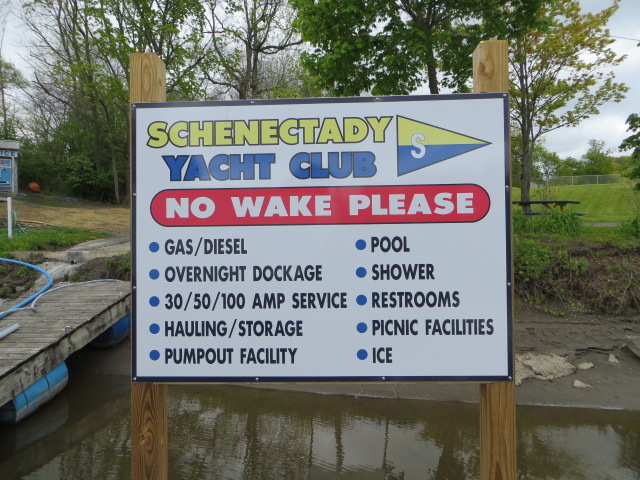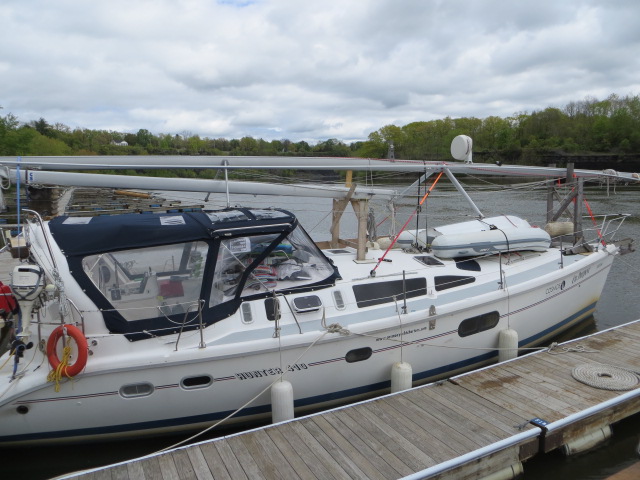 Here we are waiting at the Schenectady Yacht Club in the Erie Canal
Once we were given the OK to proceed 3 days later we continued up river and were told we had to stop after only 5 hours of running at Amsterdam, NY.  This was because the Canal crew had not yet finished installing the buoys further up the Mohawk River, so again we wait.
Many of the towns along the Erie Canal are very boater friendly and welcome boaters to stop at their town.  They provide free docking facilities with electricity hook up and water supply.  One such boater friendly town is Lyons, NY.  We stopped there on our way south last Fall and again stopped there on our back and were greeted by Bob Stopper – the town's lead greeter to boaters.  He noted we were the first boat to stop at Lyons this Spring and posted our picture on a local on line publication that can be seen HERE.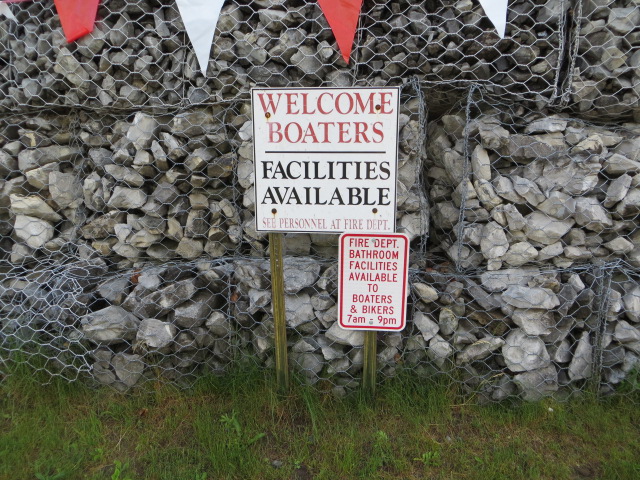 Lyons, NY Welcoming Boaters in the Erie Canal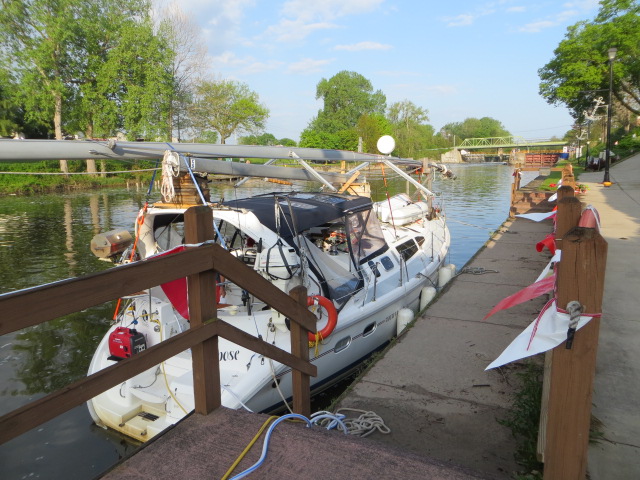 Here we are at the Lyons Welcoming Dock
Anyway, we finally cleared the Erie Canal on Saturday, May 20th and are currently in Tonawanda, NY.  We had planned to head to Port Colborne early this morning (Monday), but the high winds forecast prevented us from departing.  We still have the rig on deck so we need calmer seas to safely cross the east end Lake Erie.
It looks like we have a good weather window to cross Lake Erie tomorrow (Tuesday).  We are going to the Sugarloaf  Marina in Port Colborne where we will put the mast back up.  We expect to depart from Sugarloaf Marina on Thursday and head to Midland, sailing through the Great Lakes, arriving end of May.