Two days ago we left the Lake Worth (Palm Beach) and headed to Fort Lauderdale using the ICW again.  We arrived in Fort Lauderdale after dark with a reservation made at the infamous Pier 66 Marina.  We had difficulty finding our assigned dock as the marina was closed by then, so we ended up at a mega yacht section of Pier 66 and docked there.  Made us feel we were a much bigger boat (for a few minutes) being moored between two 100′ plus motor yachts. The Pier 66 Marina had a 17 million dollar makeover 2 years ago so the facilities were outstanding.
The largest motor yacht at Pier 66 was 283 feet, so our 42′ vessel seemed very puny in comparison.  The daily dockage rate for the 283′ yacht was $2,400 and the monthly dockage rate is $72,000 USD.  We got off easy!  See picture below.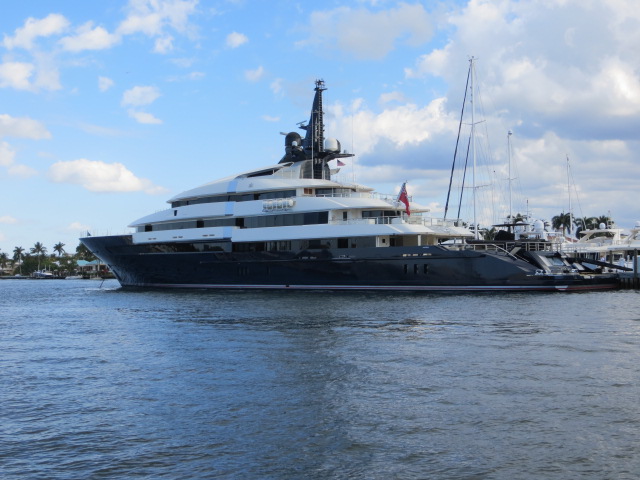 283 Foot Motor Yacht at Pier 66
We saw lots of similar large motor yacht as we passed West Palm Beach on our way to Lauderdale.  See pictures below.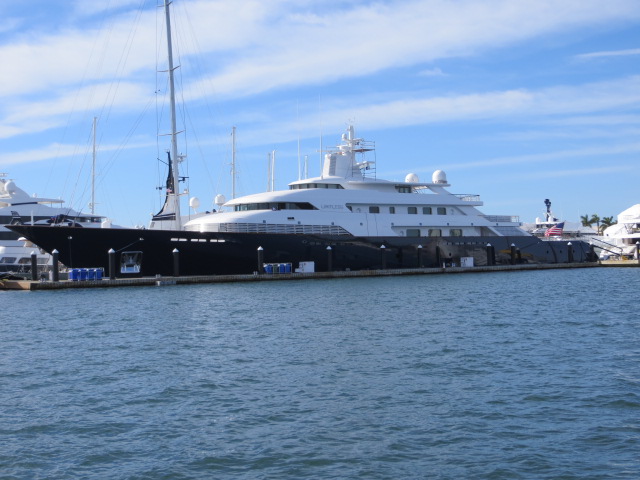 Just about as big as Mega Yachts get before being called a Ship!  Estimated between 400 and 500 feet and likely half a billion dollars.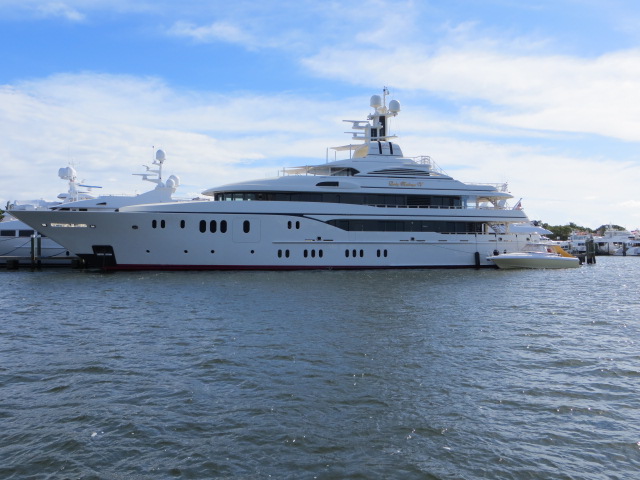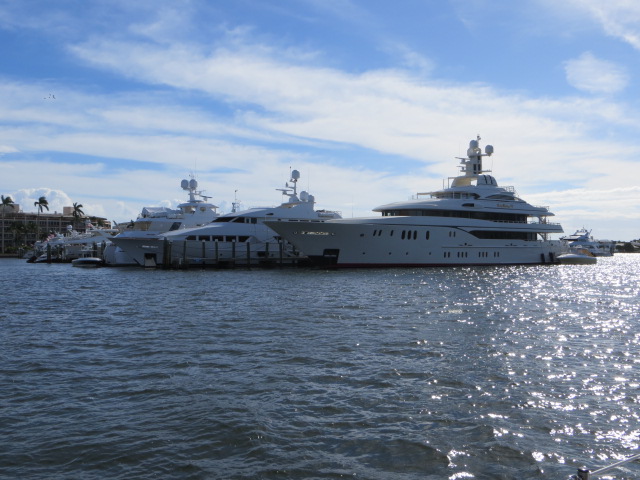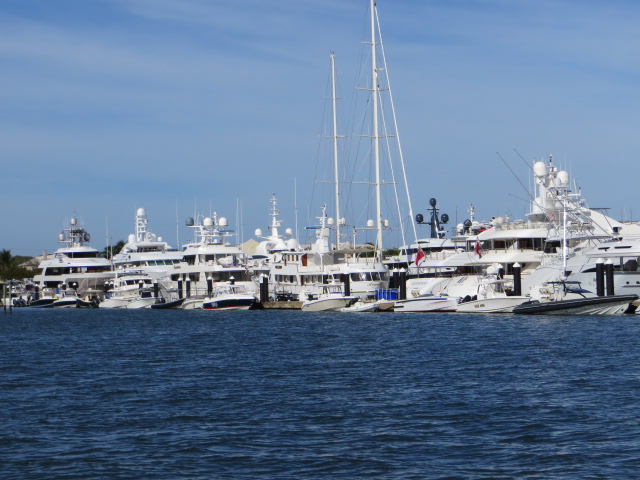 Row after Row of Mega Yachts
If what we see from the ICW, in terms of mansions and mega yachts, was to represent all of the United States, we would have to conclude United States is already great!  We know that is NOT the case, but certainly is for the wealthy.  Speaking of making America great again, as we were passing by Donald Trump's mansion on the East side of the ICW, we were stopped by a Sheriff patrol boat and told not to approach the next bascule (lift) bridge until it was fully open while we were a mile back from the bridge.  This frustrated the bridge operator and told us to proceed sooner than advised by the Sheriff.  He said press on because we were holding up traffic.  The bridge operator also said his opening was delayed on account of Secret Service personnel.
This bridge was just after Trump's mansion.  Trump was at his mansion for the Thanksgiving weekend so the Secret Service were there to protect him.
His mansion is seen here below with one of the several Coast Guard and Sheriff boats armed with machine guns patrolling the waters around his palace.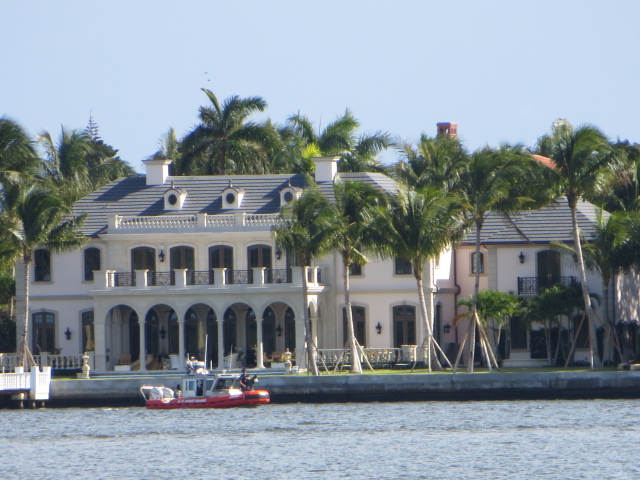 The Trump Mansion on the ICW with Coast Guard/Security Service Surveillance.
  No one was getting anywhere near close to the Trump Residence.
Yesterday, we departed from Fort Lauderdale and headed to Miami on the open ocean.  We couldn't use the ICW even if we wanted to because one fixed bridge (between Lauderdale and Miami) is only 56′ high, so we could not pass under it.  We had a North East wind 15-20 knots so the seas were about 4-6 feet.  See second picture below of the Miami skyline.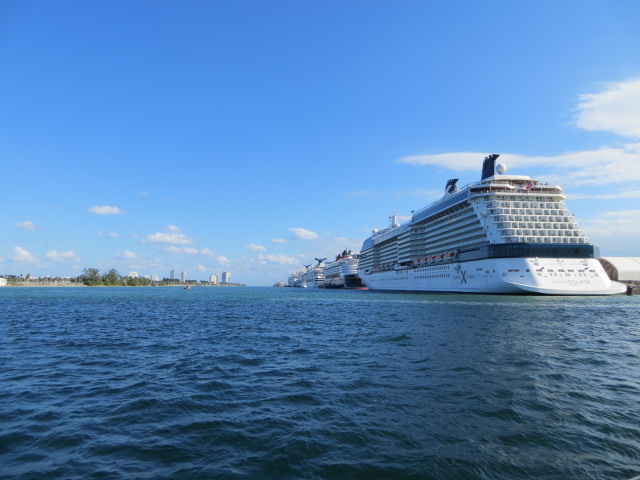 Seven Cruise Ships lined up for Weekend Departure from the Port of Miami
Miami Skyline
Although our initial plan was to go to Marathon, Florida and book a mooring ball there for the winter, we have had a change of plans for now. Yesterday we checked into the Dinner Key Marina on Biscayne Bay (just South of downtown Miami) for supplies and found out they had a similar mooring field as Marathon.  We have decided to give their mooring field a try tomorrow.  Their mooring field is not that well protected from the northeast, east and southeast so we want to see what it is like in higher winds which we had today and will have again tomorrow.  If we like it, we will then stay here as home base for the winter.  The big advantage to here as opposed to Marathon is it is close to everything.  It is also very familiar stomping grounds for me since I worked as Captain on a motor yacht in downtown Miami for 3 years from 2007 to 2010.  The weather has been great in the high 20's (27-29 degrees C) and will be like that all week….and all winter – that's why we are here!
Will keep you posted….stay tuned!