Although we had planned to go down the Detroit River on Saturday, we decided to wait on account of high winds again and the fact we had some things to get done in town like flu shots and a visit to Rogers to solve issues with Bill's new phone.   Good we waited as we found out today that the large car ferry that runs from Leamington to Pelee Island was held up for hours in Leamington until later in the afternoon Saturday on account of heavy seas.
So, we did the Detroit River yesterday and arrived at Pelee Island (Sunday) at 1615.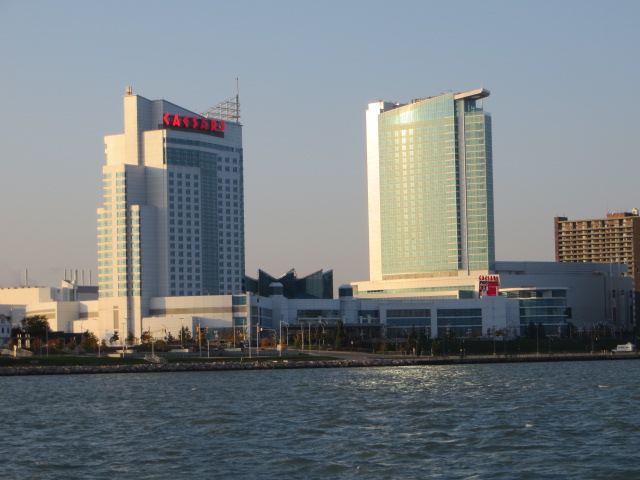 Caesar's Casino in Windsor, ON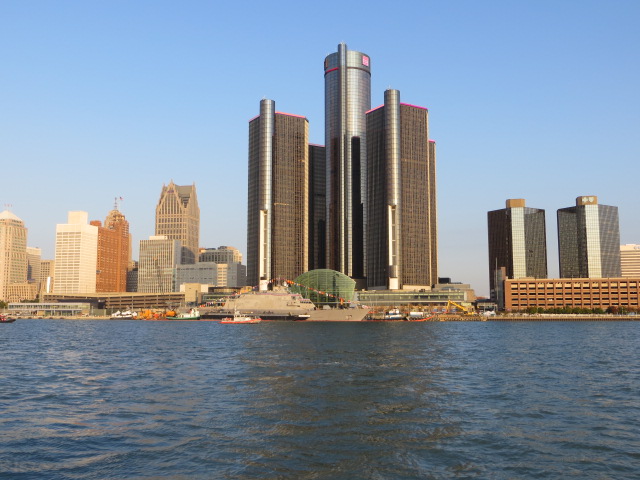 General Motors Headquarters, Detroit, USA
So here we sit again waiting for weather….at Pelee Island at the Scudder Marina.    When we first arrived yesterday, we thought it was world war III.  We heard continuous gun fire – sounded like shot guns.  It turns out it is pheasant hunting season on the island this time of year – whew!
With north winds at 30 knots last night, we had a very restless night as the 4 fenders were grinding on the dock so loud, they kept us awake.  Scudder Marina is not that great protection with winds out of the north given its entrance faces north.  It does have a huge breakwater outside the marina, but that was no match for the big waves that made their way into the marina.  We never heard fenders grind so hard dockside in a marina.
Here is a picture of a heron sitting on our dock today.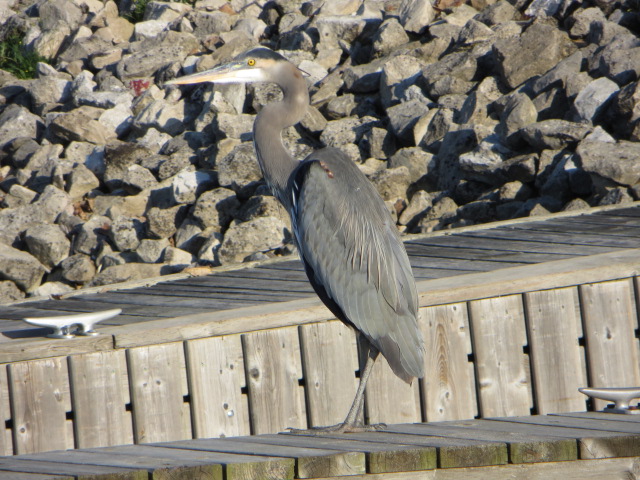 So our plan is to leave tomorrow (Tuesday) morning early and do the entire Lake Erie which will take 33 hours, weather permitting.  Failing that, we may have to break up the passage with a stop at Port Stanley on the north shore.