We left Bay Port Yachting Centre at 4:40 pm on October 12, 2016 on our adventure south to sun, warmth and white sandy beaches.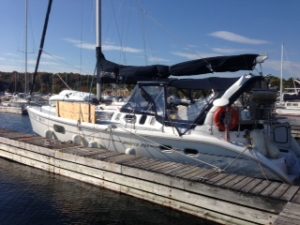 "On Purpose" was fully loaded and ready for the challenge.
Bye Bye Bay Port.  See you in the spring!
The first over-night stop was at a protected anchorage on Christian Island until early morning when the wind changed direction.  The rolling forced us to move to another anchorage about a mile and a half away on Hope Island.
It's odd that so few leaves have changed colour as you can see below. Usually by this date the leaves have already reached their peak colour.