COSMOS Sailing Cruises and Charters
Page: About our Georgian Bay Cruises, Bareboat Charters, and Caribbean Charters.
HOME
ABOUT US
OUR FLEET
Hunter 340 Yacht
Hunter 410 Yacht
Hunter 460 Yacht
DESTINATIONS
Our Destinations
Georgian Bay North Channel
Mackinac Island Paradise
Caribbean
Passage Making
CHARTERS
Our Charter Programs
Bareboat Charters
Crewed Charters
Georgian Bay Corporate Charter
Georgian Bay Dinner Cruise
Georgian Bay Overnight Star Gazing
Georgian Bay Weekend Cruise
Georgian Bay Week Long And Longer
Georgian Bay Half Day Or Full Day Cruises
Caribbean Week Long
ECO Tours
Menu Planning
CRUISE & LEARN
Cruise & Learn Courses
Sail Canada
American Sailing Assoc.
GIVE A GIFT
ITINERARY
Georgian Bay North Channel Itinerary
Caribbean Itinerary
SPECIALS
Our Specials
Last Minute Bookings
Early Bird Specials
Unique Adventures
PRICING
Georgian Bay Rates All Inclusive
Georgian Bay Rates Skipper
Georgian Bay Rates Bareboat
Georgian Bay Cook Rates
Bookings and Payment Terms
Caribbean Rates All Inclusive
YACHT DELIVERY
Licenses
TESTIMONIALS
FAQS
CONTACT US
PRIVACY
ABOUT Our Georgian Bay Cruises, Bareboat Charters, and Caribbean Charters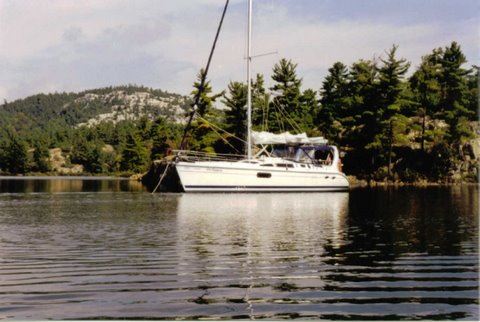 Welcome to our website and yacht charter programs!
COSMOS Yacht Charters provides unique and flexible crewed sailing cruises, with a professional Captain, and bareboat charters, in the Georgian Bay / North Channel (Lake Huron) and the Caribbean waters aboard modern luxury yachts.

Our charter company is operating all year round providing adventure sailing cruises in Georgian Bay / North Channel during the Summer months and in the Caribbean during the Winter months.
Our Charter Base in Georgian Bay / North Channel is operating out of Georgian Bay's finest full service marina, Bay Port Yachting Centre, located in Midland, Ontario. In the Caribbean, our base is located in the Yacht Haven Grande Marina, Charlotte Amalie, St. Thomas Island, U.S. Virgin Islands.
Looking forward to the upcoming season, be sure to visit our web site often for Summer Discounts, Last Minute Bookings Discounts and Early Bird Specials.
Our FLEXIBILITY includes:
A choice of Georgian Bay Cruises:

Half-Day or Full-Day Excursions
Corporate Events
Sunset Dinner Cruises
Over-Night Star Gazing
Weekend Getaways
Week-Long and Longer
Cruise & Learn Courses (CYA and ASA accreditation)
Within these charter offerings, there are three flexible Plans ('All-Inclusive' - 'Skipper' - 'Bareboat'):
1. The "All-Inclusive Plan" provides professional Captain, yacht, and provisioning with a 'Cook Option'.
2. The "Skipper Plan" provides professional Captain, yacht, and guests provide their own provisioning.
3. The "Bareboat Plan"* provides the yacht and allows qualified guests to charter the vessel themselves without a Captain, and they do their own provisioning.
Flexibility with the "All Inclusive" and "Skipper" plans:
Menu planning varies on individual tastes (applies only to "All Inclusive");
Guests can choose their level of participation in operating the vessel;
Guests can choose to make their own meals, or have a Cook on board;
Adventure itineraries are tailored to suit guests' preferences - they can be tightly structured or loosely planned;
Offers guests the opportunity to gain experience in new waters under the guidance of a Captain with local knowledge;
Basic Sailing and Navigation instruction is included.
*Note: The "Bareboat Plan" is available to qualified guests that are chartering for a week or longer. Bareboat charters shorter than week-long are available. Please contact us for the details, pricing and availability.