COSMOS Sailing Cruises and Charters
Page: Sailing Georgian Bay - Corporate Charter
HOME
ABOUT US
OUR FLEET
Hunter 340 Yacht
Hunter 410 Yacht
Hunter 460 Yacht
DESTINATIONS
Our Destinations
Georgian Bay North Channel
Mackinac Island Paradise
Caribbean
Passage Making
CHARTERS
Our Charter Programs
Bareboat Charters
Crewed Charters
Georgian Bay Corporate Charter
Georgian Bay Dinner Cruise
Georgian Bay Overnight Star Gazing
Georgian Bay Weekend Cruise
Georgian Bay Week Long And Longer
Georgian Bay Half Day Or Full Day Cruises
Caribbean Week Long
ECO Tours
Menu Planning
CRUISE & LEARN
Cruise & Learn Courses
Sail Canada
American Sailing Assoc.
GIVE A GIFT
ITINERARY
Georgian Bay North Channel Itinerary
Caribbean Itinerary
SPECIALS
Our Specials
Last Minute Bookings
Early Bird Specials
Unique Adventures
PRICING
Georgian Bay Rates All Inclusive
Georgian Bay Rates Skipper
Georgian Bay Rates Bareboat
Georgian Bay Cook Rates
Bookings and Payment Terms
Caribbean Rates All Inclusive
YACHT DELIVERY
Licenses
TESTIMONIALS
FAQS
CONTACT US
PRIVACY
SAILING GEORGIAN BAY - CORPORATE CHARTERS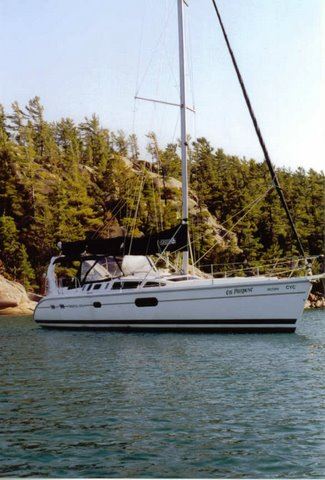 Sailing Georgian Bay on a corporate yacht charter with professional crew is a memorable way to show your appreciation to your customers, employees, suppliers, and/or business colleagues. It is also an ideal venue to celebrate a milestone achievement in your business. Whether it is a half-day or full-day charter, COSMOS will ensure your guests have an enjoyable and relaxing time. Such a charter will set you apart from your competition and leave your guests appreciating such a unique and memorable experience.
A typical full-day sailing Georgian Bay corporate charter starts at 0900 (9am) and ends 1700 (5pm). A half-day corporate charter can be arranged for the morning (9am to 1pm) or afternoon (1pm to 5pm). Other times can be arranged to meet your schedule. We can provide lunch and beverages for your guests as required. Our 'All-Inclusive Plan' has been designed to meet your busy schedule.
You only need to contact us to book your charter and we will look after the rest.
For a sample itinerary, see ITINERARY, and see PRICING for the charter rates.
The Sailing Georgian Bay Corporate Charter pricing schedule is the same as our Georgian Bay Day Charter rates.