COSMOS Sailing Cruises and Charters
Page: Unique Adventures
HOME
ABOUT US
OUR FLEET
Hunter 340 Yacht
Hunter 410 Yacht
Hunter 460 Yacht
DESTINATIONS
Our Destinations
Georgian Bay North Channel
Mackinac Island Paradise
Caribbean
Passage Making
CHARTERS
Our Charter Programs
Bareboat Charters
Crewed Charters
Georgian Bay Corporate Charter
Georgian Bay Dinner Cruise
Georgian Bay Overnight Star Gazing
Georgian Bay Weekend Cruise
Georgian Bay Week Long And Longer
Georgian Bay Half Day Or Full Day Cruises
Caribbean Week Long
ECO Tours
Menu Planning
CRUISE & LEARN
Cruise & Learn Courses
Sail Canada
American Sailing Assoc.
GIVE A GIFT
ITINERARY
Georgian Bay North Channel Itinerary
Caribbean Itinerary
SPECIALS
Our Specials
Last Minute Bookings
Early Bird Specials
Unique Adventures
PRICING
Georgian Bay Rates All Inclusive
Georgian Bay Rates Skipper
Georgian Bay Rates Bareboat
Georgian Bay Cook Rates
Bookings and Payment Terms
Caribbean Rates All Inclusive
YACHT DELIVERY
Licenses
TESTIMONIALS
FAQS
CONTACT US
PRIVACY
Unique Adventures

GEORGIAN BAY / NORTH CHANNEL:
You can actively participate in the annual Park Bridge Marinas Sailing Rendezvous held on Georgian Bay by chartering with COSMOS. Several sailing yachts will sail together in the waters of Georgian Bay. It is a great opportunity to meet many Georgian Bay boaters and build friendships as the vessels typically raft together each evening at choice anchorages.

MACKINAC ISLAND PARADISE (LAKE HURON):
COSMOS provides a charter to this famous island with an advanced booking of 45 days or more. Departure can be from a suitable location to accommodate guests so there is less travel time over the water. Suggested departure locations are Tobermory (Bruce Peninsula), or any port on Manitoulin Island (North Channel). There are airports at both these locations to accommodate guests who wish to fly to the departure location. A minimum one week-long charter would be necessary to allow three days touring the island. Guests would sleep aboard the vessel each evening, and explore the island during the day.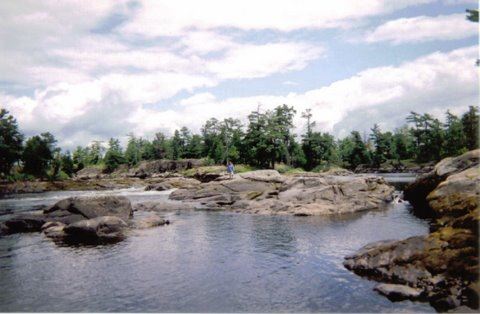 Mackinac Island is located at the eastern end of the Straights of Mackinac where the waters of Lake Huron and Lake Michigan meet. There is a natural harbour at the south end of Mackinac Island where the yacht can swing on anchor, or the vessel can dock at one of the marinas that provide transient slips for seafaring folks that arrive by yacht. Guests can enjoy a superb dinner on shore in many of the fine restaurants and hotels on the island.
The most notable feature of Mackinac Island is the fact internal combustion engines were outlawed on the island in 1898, and so the only way to travel is on foot, by horse-drawn vehicles, by horseback, or on bicycle. There are NO motor driven vehicles on this Island! As a result, everyone arrives by boat, most arriving by commercial ferries that bring passengers from Mackinaw City or St. Ignace.
It is unique for visitors to arrive by private yacht. Once you set foot on the island, you will feel you are stepping back in time. There are many historic buildings to see. Fort Mackinac constructed by British soldiers during the American Revolution. Today the original restored fort is a National Historic Landmark. A visit to this historic place allows visitors to trace the foot-steps of British and American troops as you explore the historic buildings, enjoy the exhibits, and watch lively demonstrations of an era gone by.
There are many other attractions on the island! A favorite activity for visitors is to rent a bicycle and tour the 8.2-mile long paved bicycle roadway that follows the shoreline of the entire island. Horse-drawn taxis can be taken on tours on the island including a visit to the infamous Grand Hotel….and yes, even the street cleaning machines are horse-drawn! There are many fudge shops in the downtown area and the sweet aromas of baking fudge are always in the air as you leisurely walk the main streets.

For more information about this 'Out of this World' charter, please contact us at info@cosmosyachtcharters.com or call us at (905) 715-8795.
GREAT LAKES / CARIBBEAN PASSAGE MAKING:
Anyone interested in this unique opportunity for passage making to and from the Caribbean and the Great Lakes can find more information in Passage Making.
CARIBBEAN: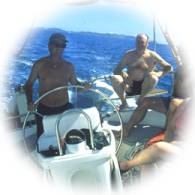 Antigua Sailing Race Week
COSMOS offers an opportunity to charter guests to participate in the distinctive Antigua Sailing Race Week that is one of the top three international regattas in the world. This unique cruise operates every year in the latter part of April and early part of May.
As a guest, you will be departing from Yacht Haven Marina, Charlotte Amalie, and arriving in Antigua in time to rest and prepare for these world renowned races. The cruising races typically run for five days in perfect sailing weather in the Heart of the Caribbean.
After participation in the races, the yacht will leave Antigua and return to the Yacht Haven Marina for a full two weeks of unbelievable sailing and fun having participated in an international regatta and sailing the open waters of the Caribbean sea.
This two week cruise is offered as an All-Inclusive or Skipper Plan.