COSMOS Sailing Cruises and Charters
Page: Bareboat Charters Georgian Bay
HOME
ABOUT US
OUR FLEET
Hunter 340 Yacht
Hunter 410 Yacht
Hunter 460 Yacht
DESTINATIONS
Our Destinations
Georgian Bay North Channel
Mackinac Island Paradise
Caribbean
Passage Making
CHARTERS
Our Charter Programs
Bareboat Charters
Crewed Charters
Georgian Bay Corporate Charter
Georgian Bay Dinner Cruise
Georgian Bay Overnight Star Gazing
Georgian Bay Weekend Cruise
Georgian Bay Week Long And Longer
Georgian Bay Half Day Or Full Day Cruises
Caribbean Week Long
ECO Tours
Menu Planning
CRUISE & LEARN
Cruise & Learn Courses
Sail Canada
American Sailing Assoc.
GIVE A GIFT
ITINERARY
Georgian Bay North Channel Itinerary
Caribbean Itinerary
SPECIALS
Our Specials
Last Minute Bookings
Early Bird Specials
Unique Adventures
PRICING
Georgian Bay Rates All Inclusive
Georgian Bay Rates Skipper
Georgian Bay Rates Bareboat
Georgian Bay Cook Rates
Bookings and Payment Terms
Caribbean Rates All Inclusive
YACHT DELIVERY
Licenses
TESTIMONIALS
FAQS
CONTACT US
PRIVACY
BAREBOAT CHARTERS - GEORGIAN BAY
The 'Bareboat Plan' is typically available, for one week or longer, to qualified clients who charter the vessel on their own and do their own provisioning. Bareboat charters less than week-long are also available. Please contact us for the details, pricing and availability.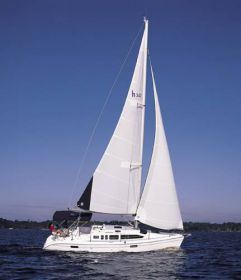 Bareboat clients can expect a thorough check-on before departure that will involve reviewing the workings of the vessel's operating / safety systems and a chart briefing. Typically the check-on will take about 2 hours and may include a test sail. Check-on times tend to be shorter for guests who have previously chartered the same vessel. A standard bareboat charter week runs from 1000 (10am) the first day, until 1400 (2:00 pm) on the seventh day or last day of charter. Charges do apply for late returns.
COSMOS reserves the right to refuse a bareboat charter, if in its view, the client(s) lack the necessary skill and competence to navigate and handle the vessel safely. In this case, the client(s) will be required to hire a Captain for the charter or part of the charter.
To book your bareboat charter, please contact us and we will provide you with our COSMOS Bareboat Charter Application as a first step.
For competitive Georgian Bay bareboat charter rates, please see: BAREBOAT PRICING.
FLOTILLA CHARTERS IN BRITISH VIRGIN ISLANDS
WINTER 2017-2018
BAREBOAT AND CREWED CHARTERS
COSMOS has partnered with Poseidon Charters and is offering Flotilla Charters in the British Virgin Islands.
Clients will be able to charter a yacht on a bareboat basis and follow the lead boat, or join the lead flotilla yacht for a crewed charter. Week long crewed charters are sold on a 'by-the-cabin' basis for only $1,899 per person double occupancy (meals, beverages, and two professional crew included).
Poseidon Charters has wide range of bareboat sailing yachts available, with very competitive pricing - both mono hulls and catamarans. Interested clients in joining our flotilla charters must book their bareboat charter or crewed charter (on a flotilla lead yacht) through Poseidon Charters.
Book NOW to secure your next winter vacation, in the peak holiday season, to trade snowflakes for warm sun and sand!